Photos of the next generation iPhone have been leaked to the internet from a Chinese parts supplier.
Two Apple-trackers, 9to5Mac and iFixyouri, have unveiled what appears to be a sleeker version of the backing plates for an iPhone, made out of aluminium. (Not to be outdone, MacRumors have also published photos that show internal components).
What's special about these photos is that they show iPhone plates that are obviously unlike any that have entered the market before. The plates are thinner overall, and the dock at the base is smaller than what is found on current iPhones.
Rumours abound that the iPhone plates will come in colours other than black and white. This has yet to be confirmed or denied.
The source that leaked these photos is supposedly a reputable one: the same supplier that was first to deliver news about the iPad coming in white.
News on the iPhone 5 is scarce at the moment, as Apple has yet to comment on the photos.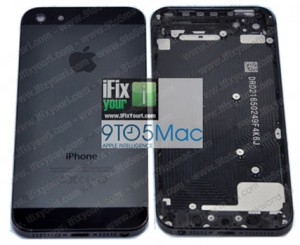 (photo supplied by 9to5Mac and iFixYouri)